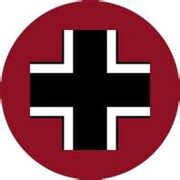 The
Latvian 12th Division
was a division in the
Latvian Army
of the
Wehrmacht
, with 20,000 troops. The 12th Division was created in 1941, led by Lieutenant-General
Heinrich Otto von Thuningen
. The 12th Division's whole manpower was reduced to zero by 1944.
The 12th Division was made up of the Latvian 24th Brigade and the Latvian 25th Brigade when it was founded in 1941. The 12th Division fought in Operation Barbarossa, losing half of its manpower during the Siege of Leningrad. However, in 1944, they were put into combat once more in Operation Vernichtung, and the last of the troops in the division were killed or wounded.
Ad blocker interference detected!
Wikia is a free-to-use site that makes money from advertising. We have a modified experience for viewers using ad blockers

Wikia is not accessible if you've made further modifications. Remove the custom ad blocker rule(s) and the page will load as expected.