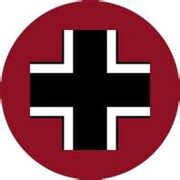 The
Latvian 12th Corps
was a
Wehrmacht
corps of 15,000 Latvian troops founded in June 1941 during
Operation Barbarossa
. It was led by Lieutenant General
Oskar Wittman
from 1941 to 1945, when it was eliminated, with all of its troops killed or wounded during the
Baltics Campaign (1944-1945)
.
The Latvian 12th Corps was made up of 15,000 Latvian troops who were conscripted from the area around Riga. The Corps was led by Oskar Wittman, who was a German-born Latvian military officer. It was involved in Operation Barbarossa, fighting as a part of the Latvian Third Army. The 12th Corps fought in the Siege of Leningrad from 1941 to 1944, when the Third Army was mixed into Army Group Latvia, which was located in Latvia. The 12th Corps was surrounded and eliminated during Operation Vernichtung, with all of its troops being casualties.
Ad blocker interference detected!
Wikia is a free-to-use site that makes money from advertising. We have a modified experience for viewers using ad blockers

Wikia is not accessible if you've made further modifications. Remove the custom ad blocker rule(s) and the page will load as expected.