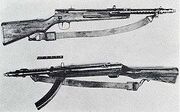 The
Autokarabiner Model 1943
was a German variant of the Japanese-manufactured
Type 100
and the British-made
Sten
, forged in 1943.
The Autokarabiner Model 1943 was founded in 1943 by the Wehrmacht, who captured some of the Sten rifles used by the Canadian Army. The AKM-1943 was manufactured in Northern Italy, and was used broadly by the Italian Military during the Palermo Campaign that year, but after the surrender of Italy, the last copies of the weapons were captured by the British and Canadians. The AKM-1943 production was discontinued afterwards, since the Germans needed more models, but could not capture any by the deadline of April 1944.
Ad blocker interference detected!
Wikia is a free-to-use site that makes money from advertising. We have a modified experience for viewers using ad blockers

Wikia is not accessible if you've made further modifications. Remove the custom ad blocker rule(s) and the page will load as expected.