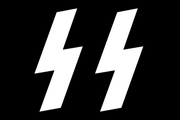 The
1st Lithuanian SS Division
was a section of the
Waffen-SS
made up of 10,000 Lithuanian troops that joined the
SS
. The
Lithuanian SS
were founded in 1941 following the occupation of
Lithuania
by
Germany
, with some Lithuanian young men volunteering to fight the Allies. The 1st SS Division was one of few Lithuanian divisions to fight on the
Western Front
, fighting in the invasion of Germany.
The 1st Lithuanian SS Division was composed of the 1st Lithuanian SS Regiment, the 2nd Lithuanian SS Regiment, and the 3rd Lithuanian SS Regiment, each of which had 3,300 troops. The 1st Lithuanian SS Division was founded in Kaunas, originally fighting for the Wehrmacht on the Eastern Front, where they fought in the First Battle of Kharkov and the Siege of Leningrad. They also fought in the Battle of Kursk, losing the 2nd Regiment completely. The commander of the Lithuanian Division, Peter Wenker, was replaced by August von Meß, following the defeat at Kursk. In June 1944, they were pulled out of fighting just before Operation Bagration, with Operation Overlord beginning. The 1st SS Division fought well at the Battle of Nanceville on June 13, but at the Battle of Caen, they lost most of their men. General Meß was one of few German generals killed in action, dying in the Battle of Saint-Lô on July 26. The 1st Lithuanian SS Division was bloodied here, and in the Battle of Maubeuge in late 1944 during the Alsace-Lorraine Campaign of George S. Patton. General Heinrich Anders von Wittenbruck assumed command of the division after St. Lô, and in early 1945, after his division was pushed back to the Rhine, he surrendered after the German High Command destroyed all bridges nearby, so the division could not escape destruction.
Ad blocker interference detected!
Wikia is a free-to-use site that makes money from advertising. We have a modified experience for viewers using ad blockers

Wikia is not accessible if you've made further modifications. Remove the custom ad blocker rule(s) and the page will load as expected.